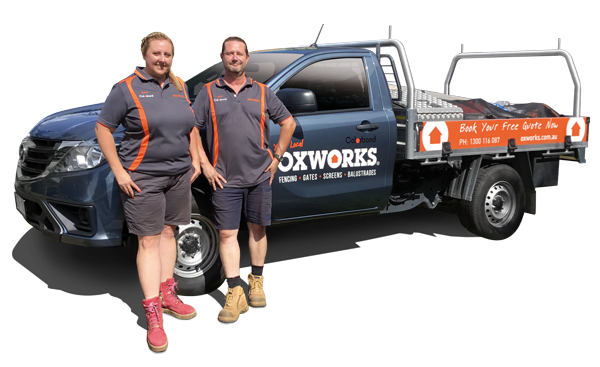 Your Installers
Dave & Emma
Servicing Strathpine & Surrounds
0478 663 753 strathpine@oxworkshq.com.au
Dave & Emma have brought a vast array of knowledge and experience to the Oxworks family. They strive to deliver a high level of customer service and their projects are always completed to a high standard. They are Oxworks certified and factory trained to install all of our products.





Pool Fencing
When it comes to Glass & Aluminium Pool Fencing, Oxworks Strathpine has you covered. Ensuring your pool is safe for your family to enjoy should be your number one priority and that is why Oxworks Strathpine use only the highest quality safety glass, aluminium & accessories designed to exceed AS1926.1 Australian Pool Safety Standards.

Entry Gates
Oxworks Strathpine specialize in Access Gates & Automation. Whether you need a Pedestrian Gate, Double Swing Gates, Side Access Gates or Fully Automated Sliding Gate Entry Systems, we've got you covered. Our Gates can be manufactured from any of our product ranges, including our Architectural Angle & Face Welded 'Radiator' Styles, Aluminium Slats, Colorbond® Steel Fencing or even Laser Screens.

Slat Systems
Oxworks Strathpine are the experts in Aluminium Slat Fencing & Screening products combining modern, innovative privacy screen systems with the latest in low maintenance, architectural style. Our powdercoated slats & screens won't rust, warp or require repainting whilst offering a cost-effective alternative to Timber Batten Screens.

Dave and Emma were great to work with and Dave and his offsider did a magnificent job on the install - very clean and highly professional. No wonder these guys are in huge demand - well worth the wait. Will be back for future jobs!
Scott Glenn

Thank you Emma and Dave for all of your hard work on our project. We really appreciate the time and effort that you put in to make it as perfect as possible.
Marty Lyons

Friendly & helpful from the very first phone call. Prompt, reliable, professional service. Totally recommending these guys. I am one very satisfied customer.
Deb England

Highly recommended. Competitive pricing and great job.
Focus Apartments
Fill in your details
for your free Installation Quote
Simply fill out the quote form with as much detail as possible and submit. We'll do the rest! One of our experienced project estimators will contact you within 24 hours or the next business day to organise a Quote for you.
---
Installs made easy with Oxworks...
❶ Enquire
Enter your details to arrange a free measure & quote.
❷ Book a Quote
Our local installation team will be in touch within 24 hours to book in a suitable time to meet on site and discuss your project. This will usually be within a couple of days, depending on your availability.
❸ Site Meeting
At our site meeting, we'll run through the project with you, discuss options, make suggestions and confirm measurements. This usually takes about 30-45 minutes.
❹ Price
In most cases we will supply a quote at our site meeting. If the project is more complex, it may take a day or two.
❺ Book a Time
If you are happy to proceed with the quote, let us know. We'll need a deposit to book in the job.
❻ Install
We will book in a suitable time to commence installation. This is usually after all trades have finished (i.e. tilers). Most projects are completed within 2 days.