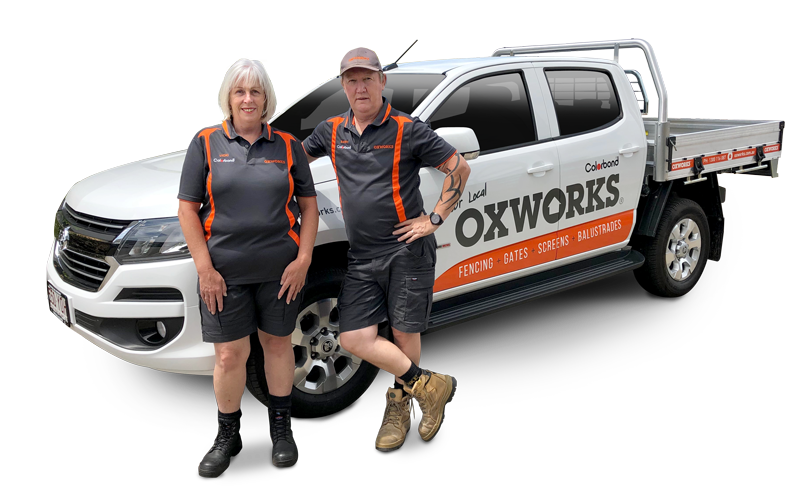 Your Installers
Barry & Vicki
Servicing Birkdale & Bayside Areas
0400 649 407 birkdale@oxworkshq.com.au
We are proud to expand our service in the Brisbane Bayside area with factory trained and Oxworks certified installs Barry and Vicki from Oxworks Birkdale. They currently service the whole Bayside region and have the capacity to install our range of pool fencing, gates, screens and boundary products.





Colorbond® Steel Fencing
Boundary fences are one of the most visible features of many homes and is also a significant investment for both you and your neighbour. It is also the most exposed to the elements, so it's important you select a fence that is attractive, strong and designed to last. Our Colorbond® Steel fencing range of Standard, Breezeway, Lattice or Slat FX styles look great from both sides, and won't warp, rot and discolour like traditional timber fences.

Pool Fencing
Our range, including Frameless Glass Pool Fencing, Semi Frameless Glass Pool Fencing and Aluminium Pool Fencing, uses modern lines with a high quality finish and is designed to add value to your property by enhancing the view of your pool and landscaping. Because we specialise in swimming pool fencing, we can provide expert advice and the best possible price for your project.

Slat Systems
Privacy and security are key elements in creating your home and Oxworks have this covered with the variety of Aluminium Slat Systems we offer. With clean, contemporary lines and effective function, they are a great feature to any home design.

Barry and Vicki replaced a 140 metre perimeter fence & gate for us. Their work was of the highest quality, they are punctual, always happy to answer questions and lovely people to deal with. We are using them for a number of other fencing and gate projects on our property and wouldn't use any other fencing company.
Rae Cunningham

So refreshing to deal with a company you can rely on to be on time and on budget. I cannot recommend the team at Oxworks Birkdale highly enough! Thanks guys awesome!
Dave Cusack

Thanks Barry and Vicki of Oxworks Birkdale. Fantastic people to deal with. Professional, personable and just damn good at what they do. Highly recommend.
Kerri Fishpool

FANTASTIC!!! I love my gorgeous new fence and I cannot speak more highly of Barry, Vicki and Liam, who all played their part in organising and installing it. It is a work of art. Thank you so much - 10 out of 10!
Tiana Adair
Fill in your details
for your free Installation Quote
Simply fill out the quote form with as much detail as possible and submit. We'll do the rest! One of our experienced project estimators will contact you within 24 hours or the next business day to organise a Quote for you.
---
Installs made easy with Oxworks...
❶ Enquire
Enter your details to arrange a free measure & quote.
❷ Book a Quote
Our local installation team will be in touch within 24 hours to book in a suitable time to meet on site and discuss your project. This will usually be within a couple of days, depending on your availability.
❸ Site Meeting
At our site meeting, we'll run through the project with you, discuss options, make suggestions and confirm measurements. This usually takes about 30-45 minutes.
❹ Price
In most cases we will supply a quote at our site meeting. If the project is more complex, it may take a day or two.
❺ Book a Time
If you are happy to proceed with the quote, let us know. We'll need a deposit to book in the job.
❻ Install
We will book in a suitable time to commence installation. This is usually after all trades have finished (i.e. tilers). Most projects are completed within 2 days.